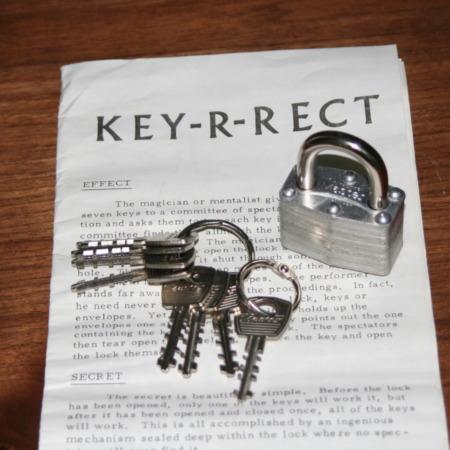 Wonderful well made mental magic

I own a small collection of trick locks, they are some of my favorite effects. The Keyrrect is one of my favorites (along with the Hemmingway lock) This effect involves a padlock and 7 keys. You have a spectator try six keys in the lock and none work, then you give him the seventh and it opens the padlock. Have him close the lock, mix the keys and in any way you like to reveal it you pick the key that opens the lock.

With Keyrrect after you identify the proper key (you don't have to touch it or look at it) you may have the spectator open the padlock themselves.

For the sake of comparison with the Hemmingway lock, the performer is the only one who can use the key to open the lock.

The key to this effect is ensuring that the audience realizes all the keys were checked and only one opens the lock. It's nice that the performer NEVER has to touch the keys at all. I've had alot of fun with this and usually have the spectator who checks the keys insert his wallet in a steel lock box then padlock it shut. When a key is eliminated it gets dropped in a slot in the box. It's a great way to build suspense and get rid of the keys before the end.
Click here for more information.