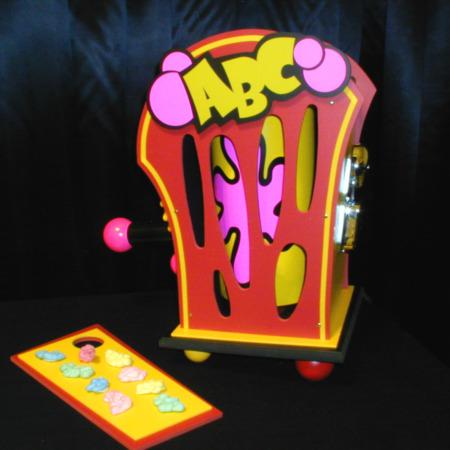 Colorful and fun!

This is a Colorful and fun prop. Just what a kids show prop should be. "chewed gum" goes in, it gets mixed, pulling it like taffy. You crank the sides with a loud clackety clack then the alarm goes off and big colorful balls spill out and fill the chamber.

Alot of fun for kids, and adults get a kick out of it too. The prop is made with solid colored plastic panels so there is no paint to scratch, if the sides get marked you can't tell and a little focused heat will soften the sides and the gouge disappears. The tube is painted, but it's a well done thick heavy duty paint and takes wear well.

Now even though this has a presentation built in, it can be used for many different presentations. the plastic balls can be switched out and you can turn chewed gum into real gum and hand it out (funny!) or forget the gum entirely. I've often used this prop when I needed a utility square circle production. just come up with another meaning for "ABC" painted on the front (this trick is as easy as ABC! ~ actual meaning is Already been chewed, referring to the chewed gum you use in the original routine)

The load chamber is huge and the "square" of the square circle shrinks in size ( an amazing idea and method!) so when you dump your load out it seems to fill the chamber! and the bell on the side helps to emphasize the magic moment in any kind of presentation.




Click here for more information.