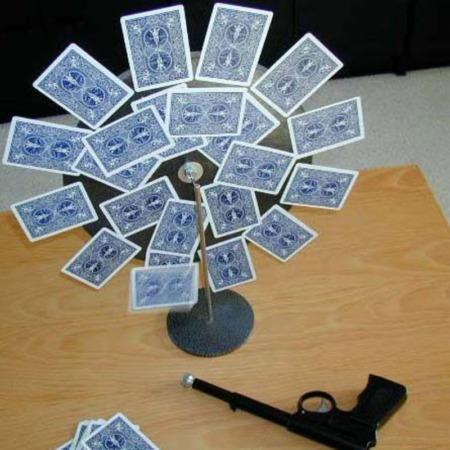 Two Tricks in One!

This is pretty sweet … I almost sold it a while back, then got it out and realised how much fun it is! You start off by showing a deck of cards all different and having one chosen and lost back in the pack. Then you take some of the cards and stick them all over the wooden board.

You give the gun to a spectator to load and then start spinning the board, firing the gun as it spins. The card that is hit is there card!

Now, having shown how real the gun is you can move into the next feature: have the gun loaded again. Blow up a balloon and give the gun to the spectator to aim at the balloon – that is held in your mouth by your teeth. They shoot, the balloon pops and in your teeth is the feather dart!

Wow! This is fun after all! From the now defunct magic hands.
Click here for more information.